Hello and thanks for stopping by!
I am a licensed craft designer who loves to travel and all things vintage. I found a 1976 camper and outfitted it as a mobile studio. Now I am on the Paper Trail teaching classes showing what's new and how to use my latest licensed Sizzix dies and Clearsnap inks. Sound like fun? See below for my schedule and the adventures along the way…
Please follow me on my social links too!
Here's a video of my Serro Scotty right after I bought it:
The video below was taken after the Paper Trail 3. Scotty was hit in Utah and the decision had to be made as to whether it was worth it to keep the trailer or buy another one. Read about it here. Would you have kept it or traded it in? Take a look at the "before" video and stay tuned for the "after.
Here's an account of the trip to Ohio to take the trailer for repairs.
UPCOMING EVENTS:
Paper Trail 4- Spring
March 21, 2015
208 Elden Street, Suite 203    Herndon, Virginia 20170
(703) 657-2952
10:30 AM- 1:30 PM  Metal-Covered Technique Book
one seat left! If there are more signups, we can do another class that day 2-5.
March 28, 2015
168 Point Plaza Butler, PA 16001
(724) 287-4311
10:00-12:30- Doodled Box and Cards
2:00-5:00- Metal-Covered Technique Book
April 9-13, 2015

Doubletree Boston – Westborough

5400 Computer Drive

Westborough, MA 01581

508-366-5511
April 23-26, 2015
Little America Hotel, Salt Lake City, UT
May 2, 2015
12644 Chapel Road, Clifton, VA 20124
703-298-7688
__________________________________________________________________________
Check out my past trips!
#Paprtrail3
September 5- October 25, 2014
NOTE: New hashtag for this trip!
On September 4, #Paprtrail3 will begin! Scotty and Big Daddy will travel down the East Coast from Virginia to Florida for a week, then head out to TX, New Mexico, Arizona and California. We will head up the CA coast from San Diego to San Francisco, then out through Utah, Colorado, Nebraska, Iowa, Illinois, Ohio and points east.
See confirmed events here and keep checking back as more are added!
September 4, 2014- Pulling out of town…
September 6-7, 2014
4095 Florida 7, Lake Worth, FL 33467
(561) 432-5201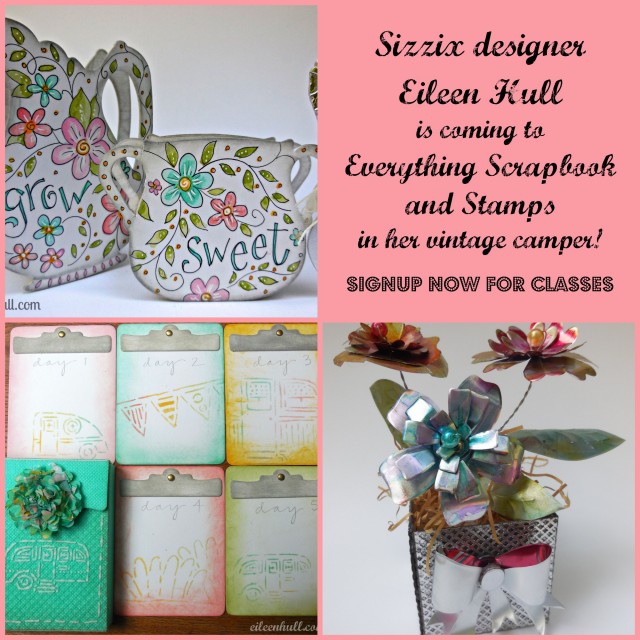 September 8-9, 2014

Spending a couple of days with my entrepreneurial daughter Jessica, her handy husband Jason and two adorable grandsons.
September 10, 2014
 111 Orange Avenue, Fort Pierce, FL 34950
Phone: 772-466-1010 • EMail: artmundo@artmundo.org
Designer adventures in Florida with Cheryl Boglioli of Cheryl's Window at her art gallery, Art Mundo. We are part of an Art Walk from 5:00- 8:00 PM. Wait till you see what Cheryl has planned for her gallery!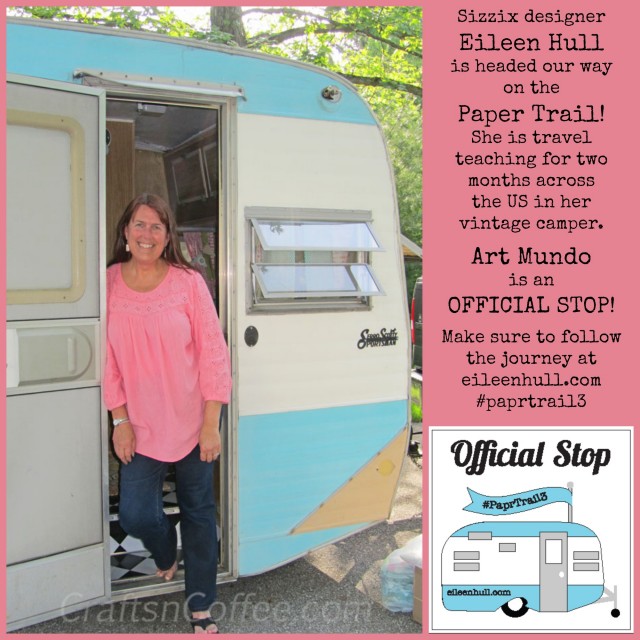 September 11-12, 2014
Cheryl and I are traveling to visit the awesome and zenspiring Joanne Fink. We will have an adventure on September 11 (details and news of a special guest coming up). September 12 will be "play in the studio day"!
September 11, 2014
918 Bichara Blvd, The Villages, FL 32159
(352) 259-6226
In and out for a quick demo! Stop by from 1:00-3:)) PM.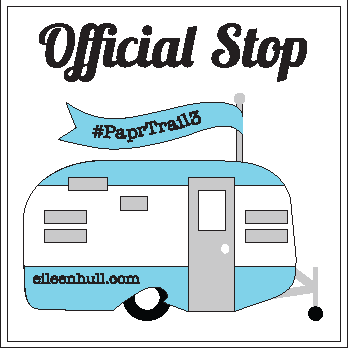 September 13, 2014
868 Blanding Boulevard #107   Orange Park, Florida 32065 
Monday through Saturday    10:00 A.M. to 5:00 P.M.
904-272-0503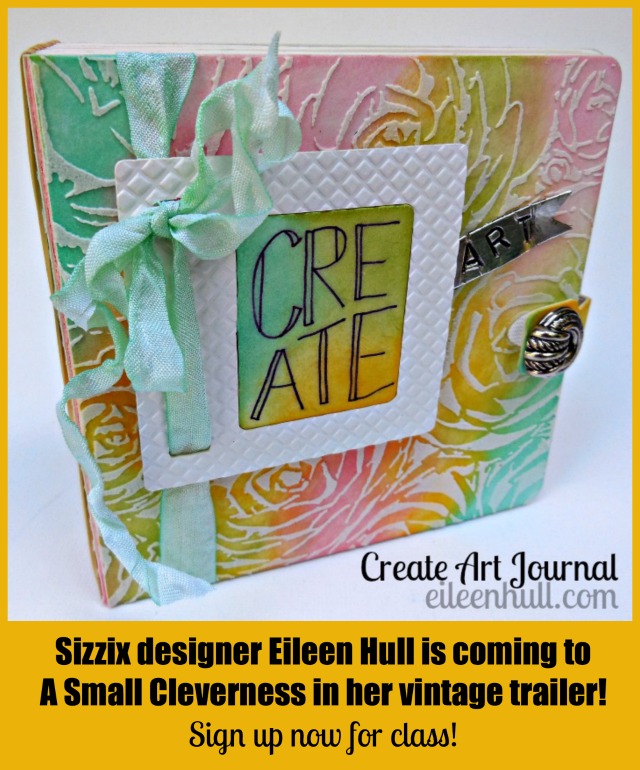 September 17, 2014
308 S. College Waxahachie, TX 75165 US
972-923-3151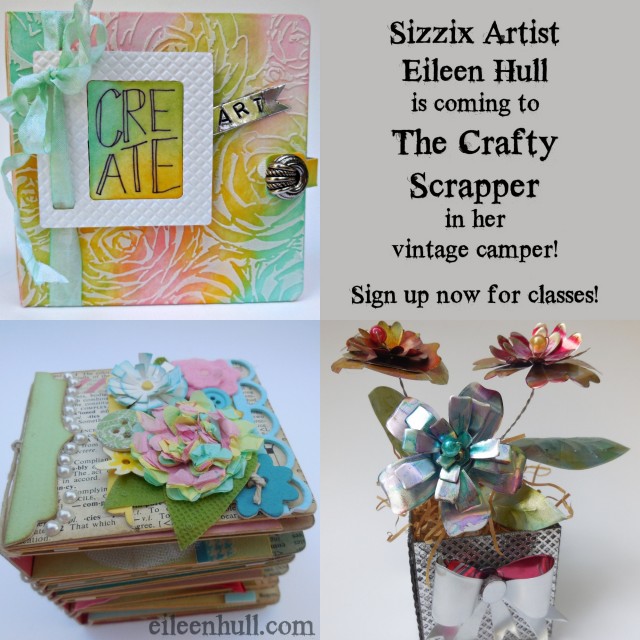 September 19, 2014
Scrapbook Store and Retreat ALL under one roof.
200 N 15th Street, Suite 8   Corsicana, Tx 75110
903/641-0855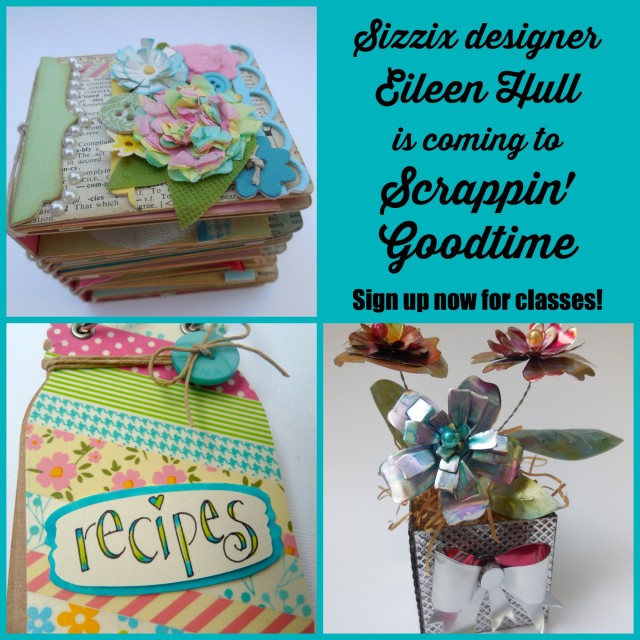 September 22, 2014
Phoenix, AZ – Shooting videos
September 24, 2014
287 Industrial St.
San Marcos, CA 92078
760-591-3010
info@charitywings.org
www.charitywings.org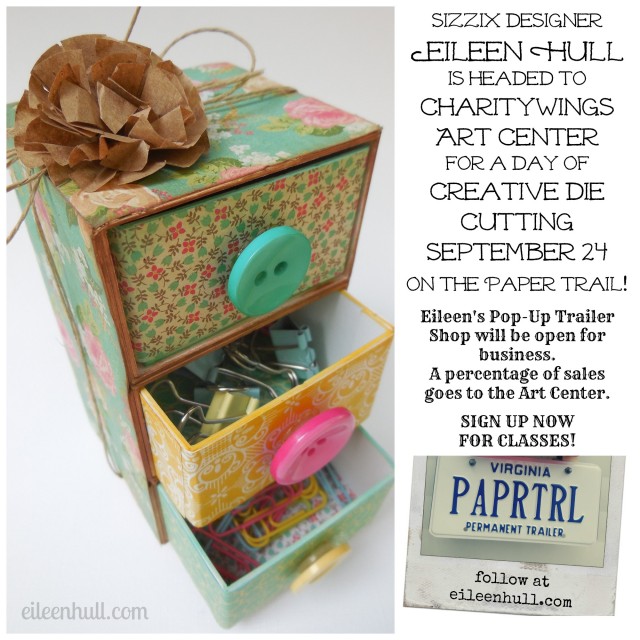 Classes and demos. Info coming soon…
September 24, 2014
Visit to Stampendous HQ!
September 25, 2014
18909 Soledad Canyon Rd #E
Santa Clarita, CA 91351
661-298-1112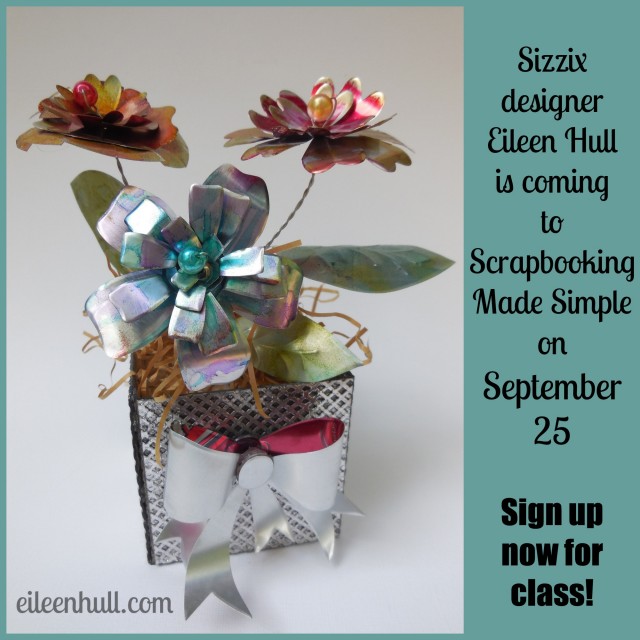 September 26, 2014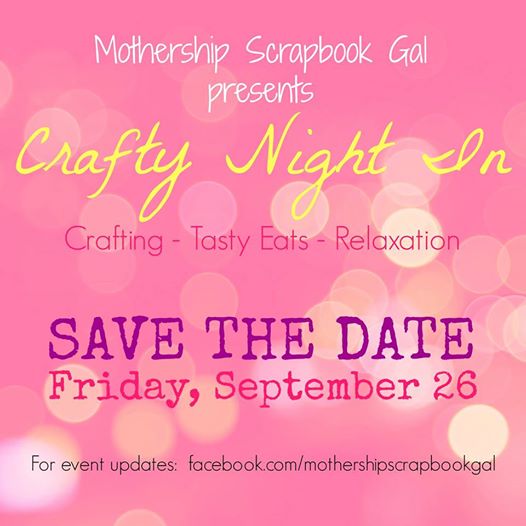 Crafty Night In with Mothership Scrapbook Girl, Rina Gonzales! Now this looks like fun! Food AND crafts??? Rina is on my Inspiration Team and is always coming up with great ideas… I always see the pics of these events and wish I could go- nd now I am!
September 27, 2014
5270 Edison Avenue  Chino, CA 91710
All day exclusive workshop. Lots of Prima goodness- plenty of time to shop the Outlet!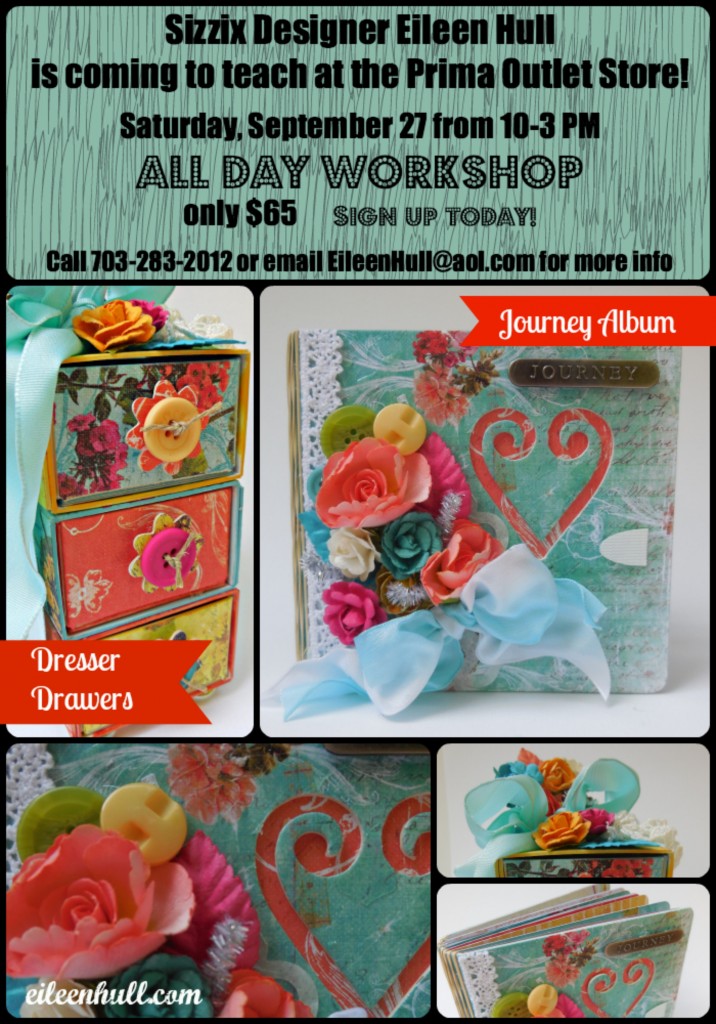 Please join me for this fun class and visit to the Prima Outlet! More details here.
All Day Workshop from 10-3. Payment may be made through Paypal- send $65  to EileenHull@aol.com and you will receive confirmation that you have been added to the list. Sign up now! Can't wait…
October 1, 2014
Sizzix Headquarters
Blogger event- Camping luncheon!
October 2, 2014
1717 4th St # A, Berkeley, CA 94710
(510) 559-9929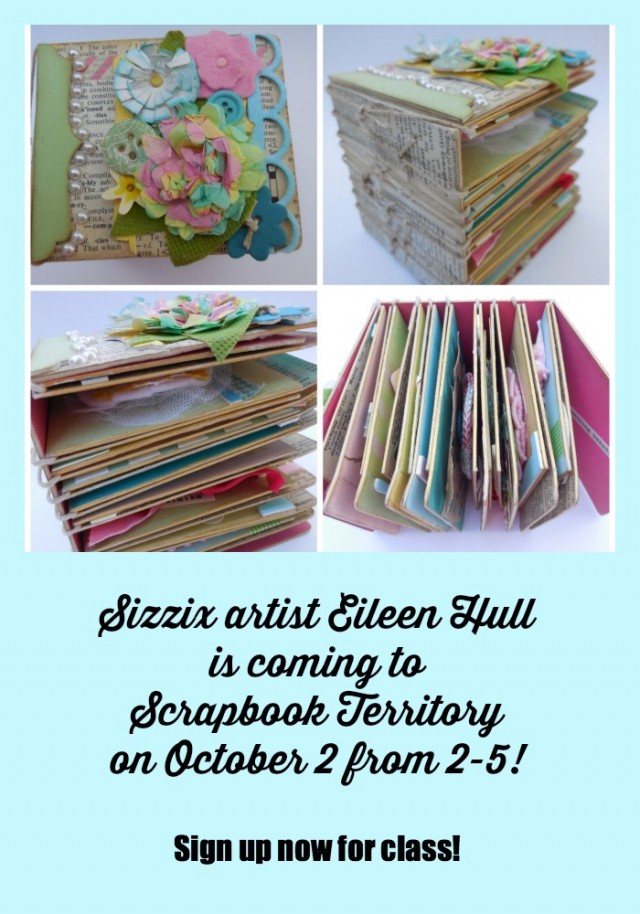 October 3-4, 2014
Class 6-9 Friday night and all day workshop Saturday!
Located in the country just 15 minutes north of downtown Petaluma, California in beautiful Sonoma County.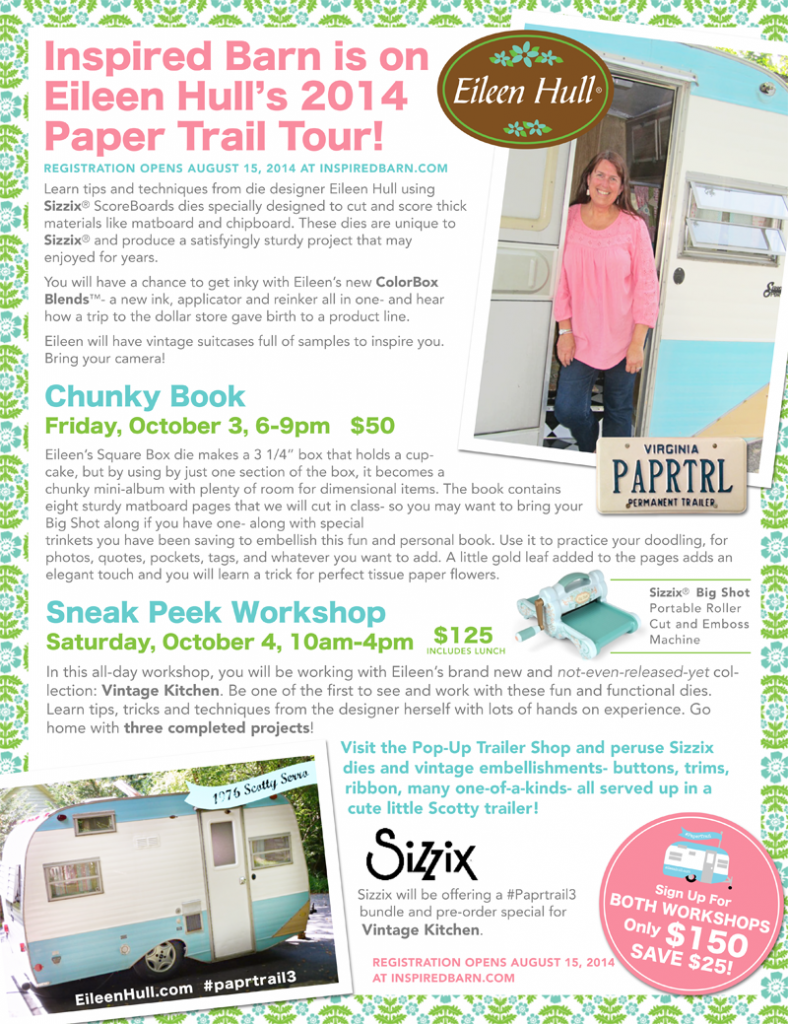 October 7, 2014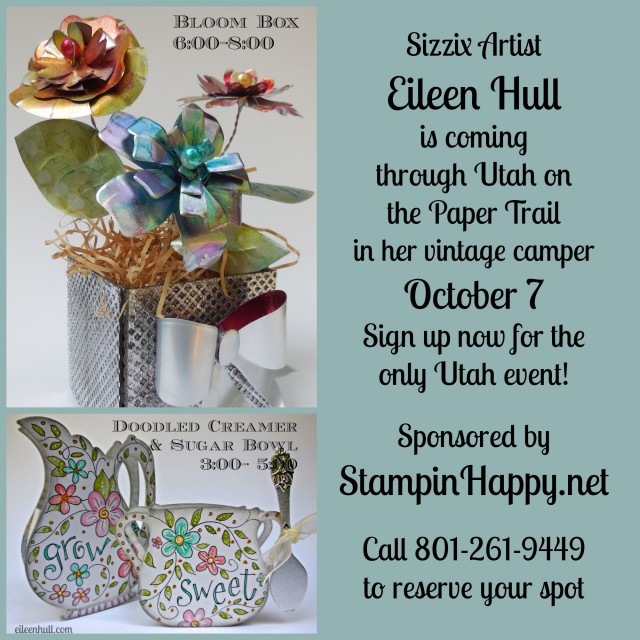 October 9-10
5525 Library Ln   Colorado Springs, CO 80918 – 1975
(719) 528-1338
Call the store now to sign up if you live near Colorado Springs!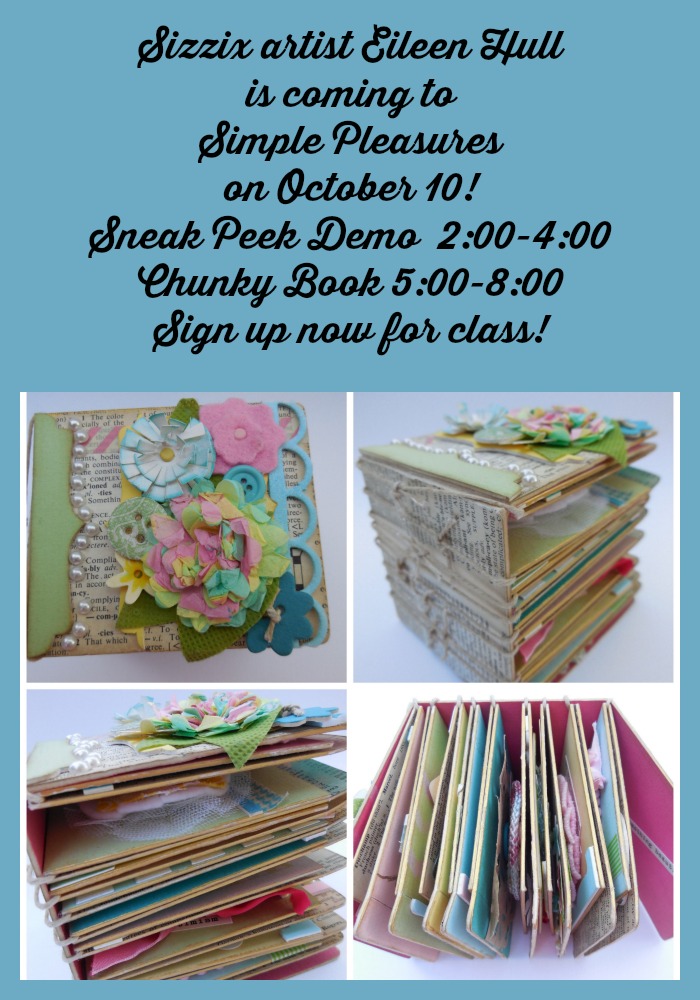 October 12, 2014
11th Annual Celebration
2014 Colorado Fall PaperCraft Market
RubberStamp * ScrapBook & PaperCraft Faire
at the
Kipling Plaza (next to the Elvis Theater)
(formerly located at the Larimer County Fairgrounds)
6004 South Kipling Blvd. Littleton, CO  80123
Open to the Public
Friday, Oct. 10 thru Saturday, Oct. 18
10am-5pm daily

(303) 932-6795
12:00- 3:00- demos
October 14, 2014
Eye-Lets Etc., Inc. - crafts
NEW Storefront:
13672 E Alameda Ave  Aurora, CO  80012

October 16-17, 2014
1354 27th Ave, Suite 109   Columbus, NE 68601
402-606-4600

October 20, 2014
October 20, 2014
641 N. Ankeny Blvd  Ankeny, Iowa
515-965-1102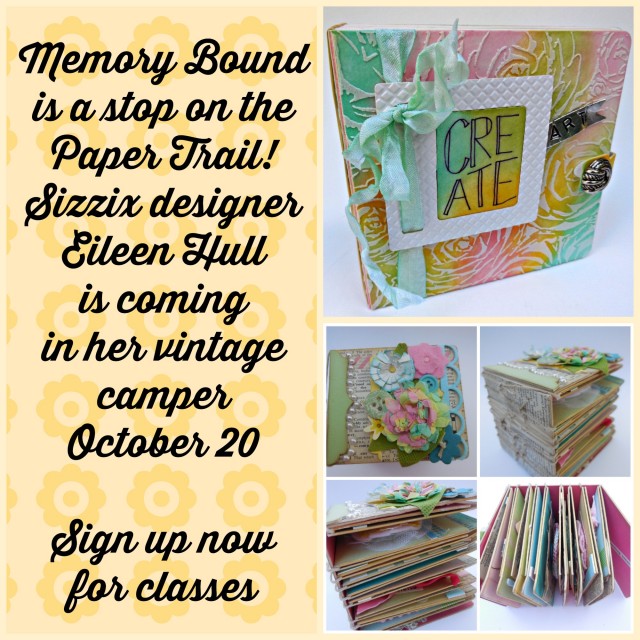 October 21, 2014
1623 5th Ave.     Moline, IL 61265
309-736-7242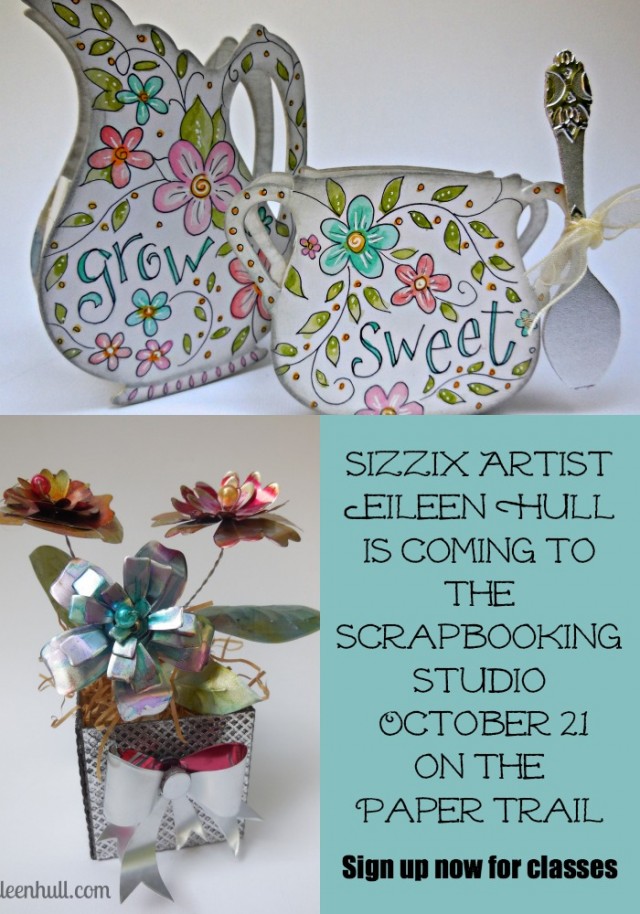 October 22-23, 2014
I'll get to see the offices and meet with Simone Collins. She has lots of fun surprises in store for her readers- can't wait to share…

October 24, 2014
 201 W Main St, Circleville, OH 43113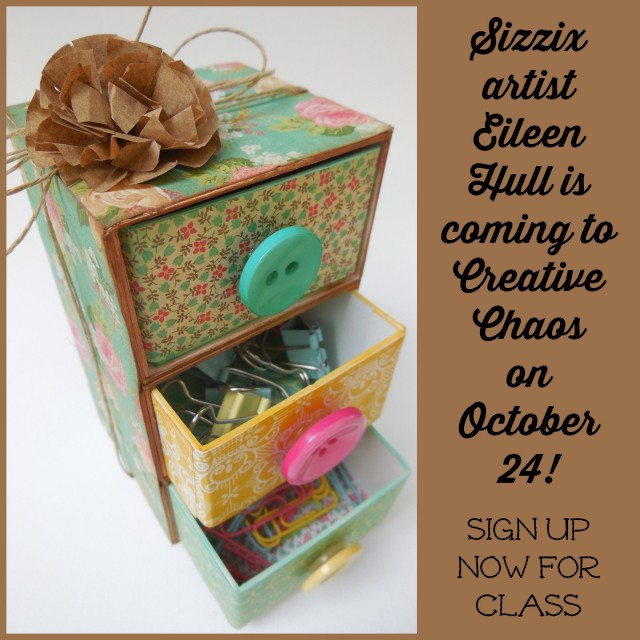 PAST EVENTS:
#PaperTrail-Phase 2
Completed and Successful! Read about the trip here:
June 2-30, 2014
ROUTE: Heading back up to New England through Pennsylvania, then out to Ohio and Indiana then back to Virginia. See itinerary below and sign up for classes along the way!
Here's the map of where I am headed. You can click on the red markers and that will show you the name of the event and location- I love Google Maps!
SPECIAL MEETING TBA soon!
And then… an evening with CardMonkey Jarvis and friends…  There's bound to be some monkey business afoot! Looking forward to meeting up and sharing tips and techniques for using Sizzix dies, Clearsnap inks and CraffitiDirect stamps.

Wednesday, June 4, 2014
16 E. 28th Division Hwy
(Route 322)
Lititz, PA 17543
717-625-4455
Noon-  demo Mini-Album
2:00-4:00 Doodled Artist Trading Blocks
If you say pretty please you can come out and tour the trailer!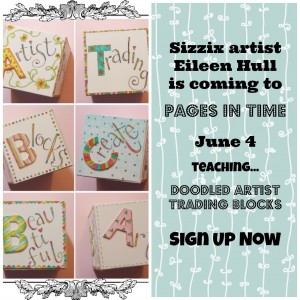 Thursday, June 5, 2014
8 Church St S, Westport, CT 06880
(203) 221-1229
10:30-11:30  Canning Jar Recipe Book mini-class
12:30-4:30  Chunky Book
Two classes featuring Eileen's Sizzix dies, Clearsnap inks and CraffitiDirect stamps.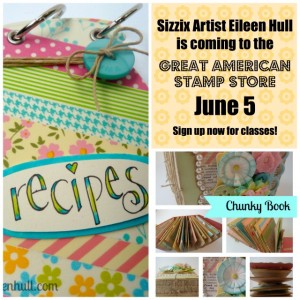 Friday, June 6, 2014
Rhinebeack, NY
Going with my sister and seeing what we can find! Excited to see the Earth Angels booth and hopefully meet Jen!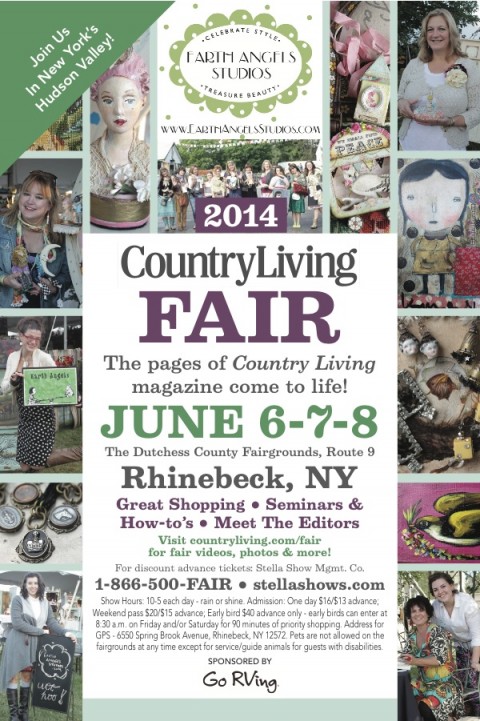 Saturday, June 7, 2014-
This trip has been POSTPONED until SUNDAY. Scotty needs repairs.
Will anyone else be going to this? Let's plan to meet up! Gather at the camper and enjoy a cold beverage and then head in to the latest goodies for sale! Contact me at 703-283-2012. Catherine Matthews-Scanlon is on board! Who else wants in?
Sunday, June 8, 2014-
CANCELLED
15 South Ave, Whitman, MA 02382
(781) 447-4010
Noon- demo
2:00-4:00- Artist Trading Block Wood Tower
Visit the trailer and sign my guestbook!
Tuesday, June 10, 2014
Wednesday, June 11, 2014
13 Furnace Ave.
Stafford Springs, CT 06076
(860) 684-2641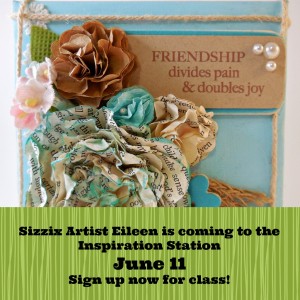 Thursday, June 12, 2014
Schoolhouse Commons
1085 Park Street  Palmer MA  01069
413-283-4448   info@lifesmemoriesandmore.com

Friday- Saturday, June 13-14, 2014
30 Westbrook Place, Westbrook, CT  06498
info@beautiful-impressions.com
Friday , June 13
11-12  Washi Tape Canning Jar Recipe Book using Eileen's ScoreBoards Canning Jar die.
6:30-7:30 Washi Tape Canning Jar Recipe Book
Saturday, June 14
Another Mini- Class! We'll be making an Artist Trading Block- bring your camera- we have LOTS of samples!
Chunky Book featuring Eileen's Square Box die, Clearsnap inks and CraffitiDirect stamps.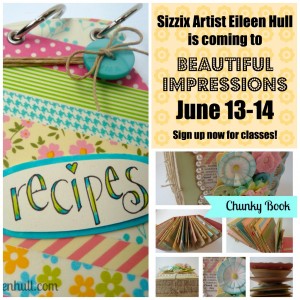 Sunday, June 15, 2014
1384 Hopmeadow Street (Route 10)   Simsbury,  CT   06070
(860) 658-9023
e-mail: stampscrapnest@aol.com

Wednesday, June 18, 2014
2445 w market st
wolf creek plaza
tiffin Ohio 44883

419-443-0882     scraphappyohio@yahoo.com

10:00-12:00- Art Journal
1:00-2:00- Recipe Book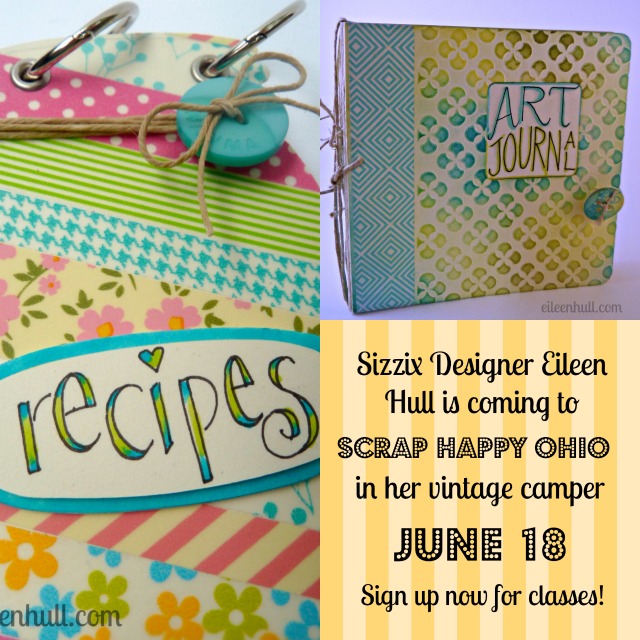 Thursday and Friday , June 19-20, 2014
671 3rd Avenue | Jasper, IN 47546 | 1.812.482.4949
Thursday
2:00-4:00    demo
6:00-10:00 Chunky Book
Friday
10:30-12:30  Memories Mini
1:00-3:00      demo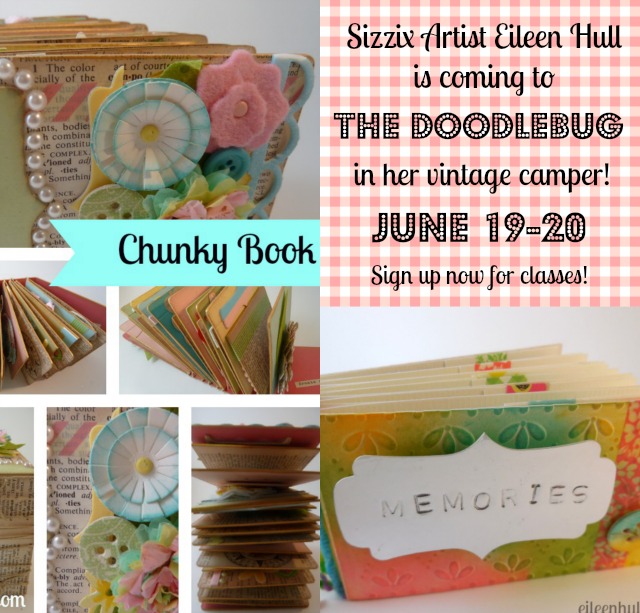 Friday and Saturday, June 20-21, 2014
1394 N. Green River Rd. Evansville, IN 47715    812-474-9099
Friday, June 20
6:00-10:00      Chunky Book
Saturday, June 21
10:00-11:00      Canning Jar Recipe Book
11:30-12:30       Birthday Box
1:00-3:00          Mini-Album
So happy to be headed back to see my friends at Mary's! We will be busy here…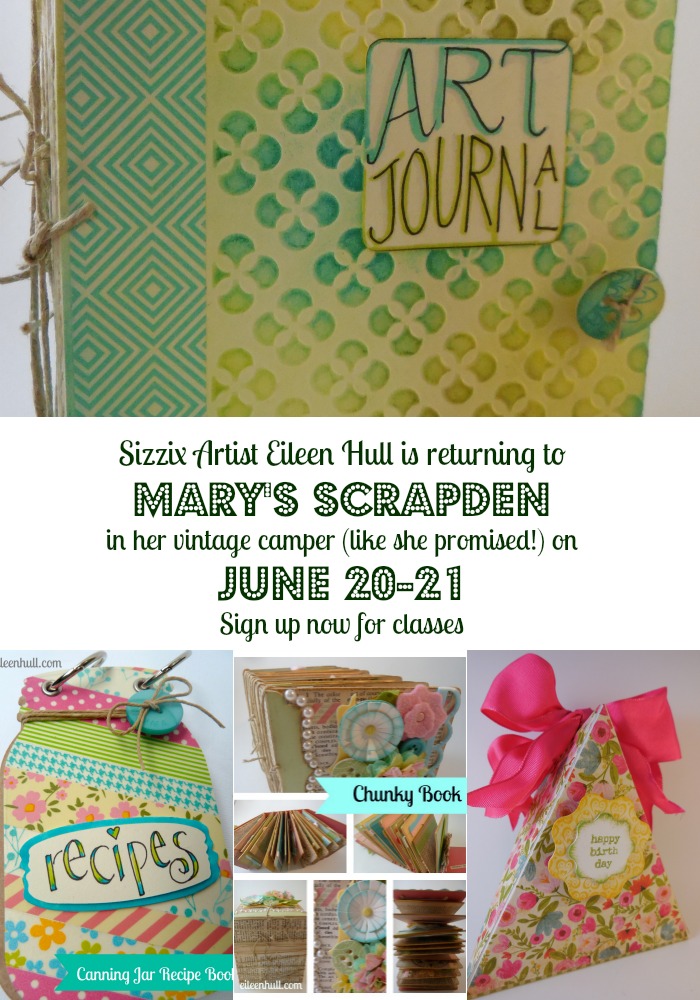 #PaperTrail- Phase 1-
Completed and Successful!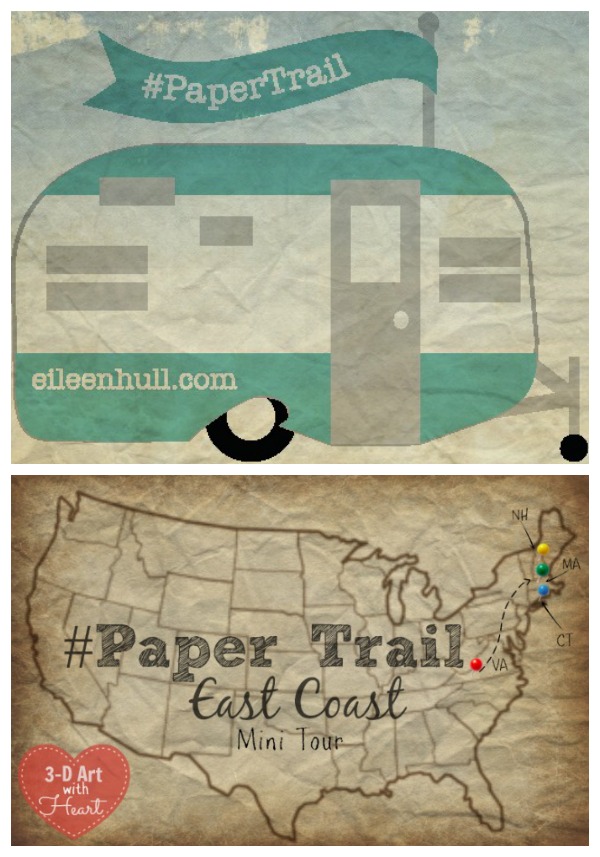 March 27, 2014
8 Church St S, Westport, CT 06880
(203) 221-1229
From 1:00 till 3:00, Eileen Hull and Amy Bowerman will be demoing and providing Make and Takes for you featuring Eileen's Sizzix dies, Clearsnap inks and CraffitiDirect stamps.
March 28-31, 2014
Framingham, MA
Friday, March 28
1:45- 3:15   Eileen and Amy will be teaching an ATB class called Artist Trading Block with Pockets featuring Eileen's ScoreBoards Blocks die and WWC pocket and envelopes dies and Bazzill papers.  All supplies included.
Saturday, March 29
7:30-9:30 PM- Sample Making Frenzy  Come make a Baby Food Jar with Eileen and Amy. Bring your camera to take pics of all the amazing ScoreBoards samples. Get your hands on some matboard- you will love it!
March 29, 2014
30 Main Street
Topsfield MA 01983
10:00- 12:00     Mad About Metal.
Make a metallic tower using Eileen's ATB Sizzix dies. Tons of techniques- we will be talking FAST! See store site for supply list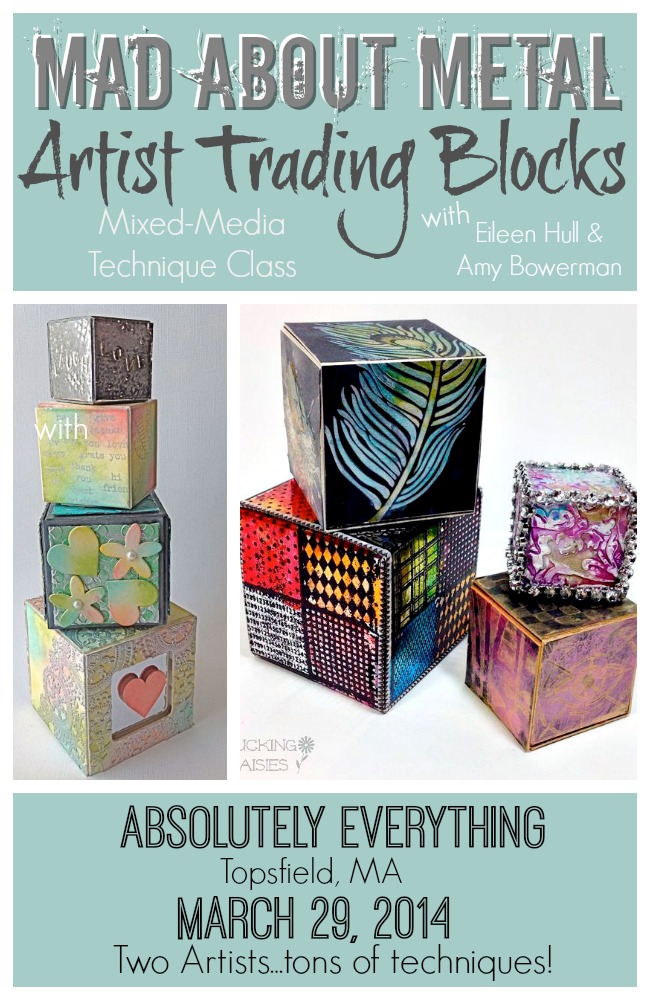 1:00 till 3:00     Mini- Album Art Journal
Learn to work with Eileen's Sizzix dies, ColorBox Blends inks, CraffitiDirect stamps and the Stampendous Creative Palette. See store for supply list.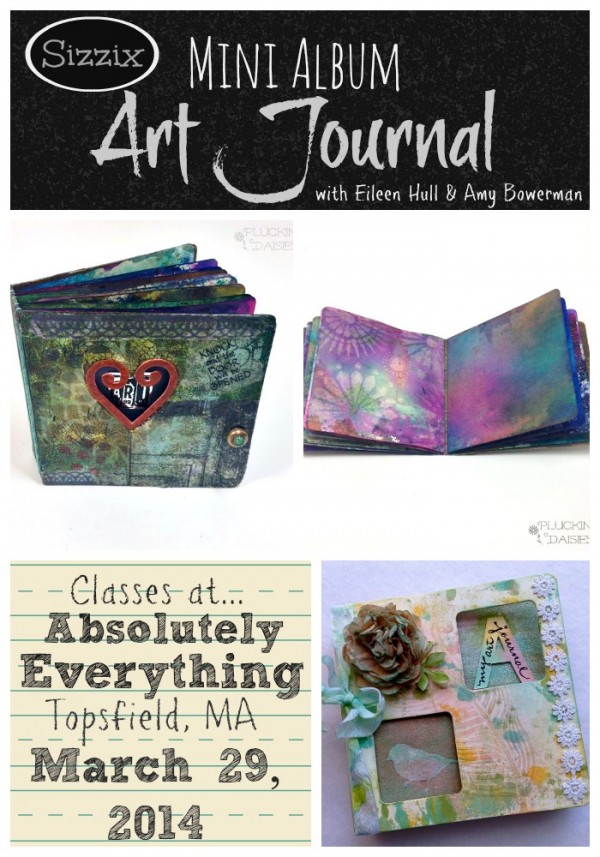 April 1, 2014
20 Westbrook Place
Westbrook, CT 06498 |
Phone: 860-399-4443
Email: info@papercraftclubhouse.com
12:00 till 2:00      Eileen Hull and Amy Bowerman will be demoing and providing Make and Takes for you featuring Eileen's Sizzix dies, Clearsnap inks and CraffitiDirect stamps.
30 Westbrook Place, Westbrook, CT  06498
info@beautiful-impressions.com
3:00 till 5:00   Eileen Hull and Amy Bowerman will be demoing and providing Make and Takes for you featuring Eileen's Sizzix dies, Clearsnap inks and CraffitiDirect stamps.